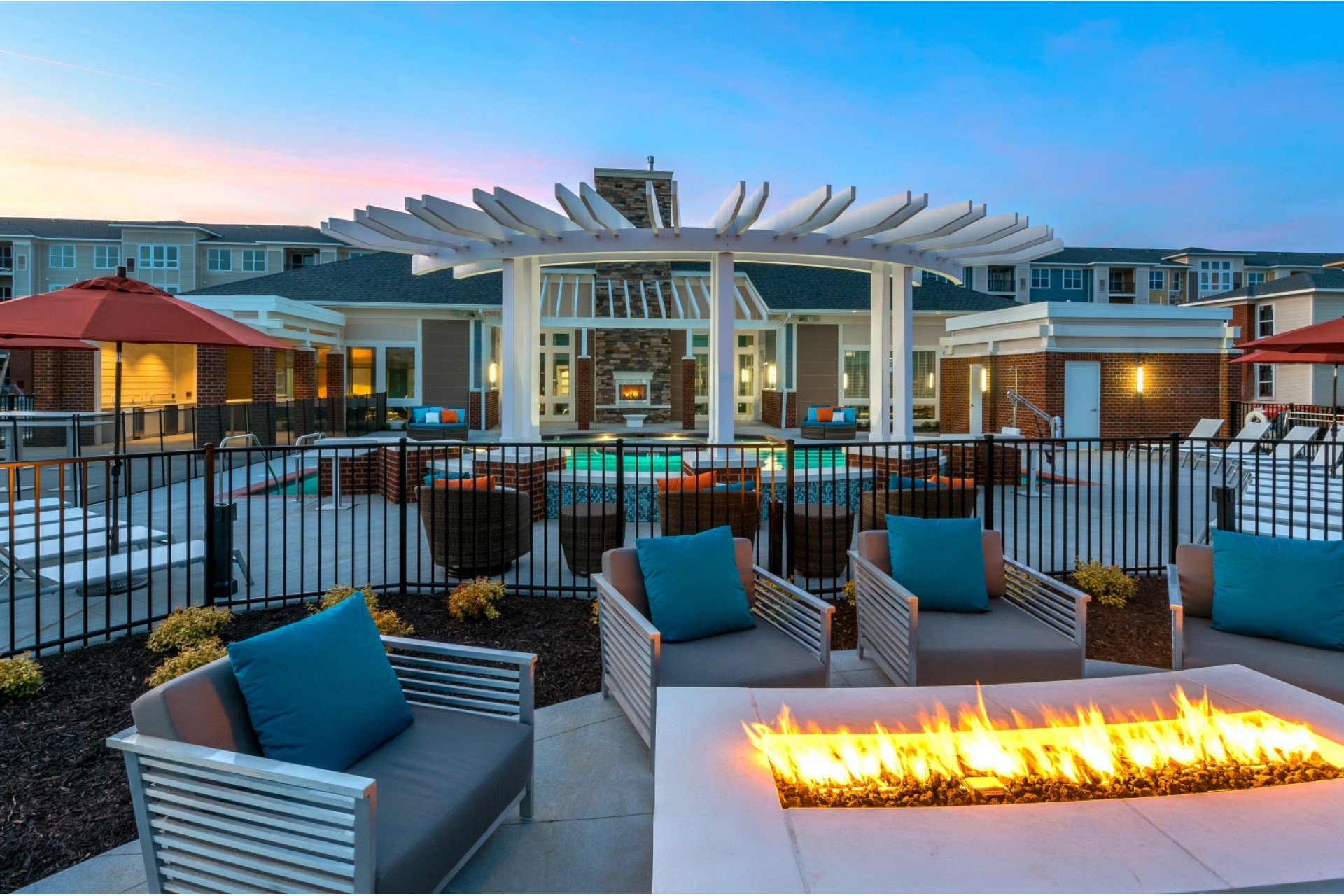 Your Review
Submit a Review

Resident Reviews
Great Staff makes a difference
|

Recommended: Yes
Lauren, Thank you for your terrific review. Noise is a common issue at most apartment communities but we do address excessive noise issues immediately and if there is anything we can do for our residents, we will do our best to get it done. Thank you for choosing Infinity, we enjoy having you here. Team Infinity
I love the quality and thought of the apartment, community, and staff
|Recommended: Yes
This apartment complex is very thought out. You can tell there was a lot of critical thinking set forth on the lay out of the complex. I love that the entry to all the apartments and mailboxes are indoors and are key fobbed for entry. I love the ability to buzz people in through my phone The community here is amazing and so are the staff It's such a pleasure to be able to have a conversation with Curtis and Dan everything morning when going for my morning cup of coffee The only issue that may arise with potential community members is the noise due to being close to a high volume street and the construction. The sound barrier is nice for neighbors left and right, but neighbors up and down you can hear everything. But the apartment and community is so amazing it makes the noise so minimal. It just lets you know you have a community around you
Thank you Linh, We appreciate your positive words regarding our community. It means a lot to know that where we lack we make up in so many other ways. Sincerley, Team Infinity
Sleep in
|Recommended: Yes
The guy with the leaf blower woke me up on my day off. And construction is constantly annoying me.
Hey Robert, I will check with our landscaping crew to make sure they are only working during business hours. This should be the case but I will confirm.
I love this property. It's high class, quiet, and visually appealing.
|Recommended: Yes
I love this property. It's high class, quiet, and visually appealing. The staff is great, even if you ask stupid questions. I had a lot of those whenI moved in. Also they are very helpful. I had a big piece of mail come in and a staff member carried it to my door for me
Amanda, all questions are important when it comes to our residents concerns. That is what we are here for. Thank you for choosing Infinity for your new home. We are happy to have you and happy to help anywhere we can. Infinity Management
The grounds are very well kept. The landscaping is beautiful|Recommended: YesLiving at Infinity is what you make it. The apartments are beautiful and the management encourages you to make your apartment your home...pictures, window treatments, mounted tv, ceiling fans installed if not already...even changing the can-lights over the kitchen island to pendulum lights. There are 1-2 community activities per month as well as weekly aerobic and yoga classes. There is a gorgeous pool and recreation area with a fire pit, fire place, gas grills, and a bar for you to use you stock it but you can also relax in the chairs in and around the pool or one of the mini gazebos by the pool. The fitness room has a nursery attached. There's a medium size dog run, but there are poop bag stations all around the grounds so your dog is not restricted to one potty area. I love that they welcomed my Rottweiler and treat him like the gentle and friendly dog he is. The management and maintenance teams are awesome
So Far So Good9
|Recommended: Yes
I like living here but the parking is not the best. I've only lived here for a month now but so far so good.
We are happy to hear that you are feeling good about your choice to live here at Infinity and of course appreciate the great review. I am surprised that you don't think we have adequate parking. We do have ample parking behind the buildings with access to the building in the back as well. We also provide reserved parking (depending on availability) for only $25 / mo. If you are interested in looking into this, we are happy to assist. We look forward to a great new year here at Infinity and every suggestion or comment from our residents count. Sincerely, Team Infinity
Beautifull apartments
|Recommended: Yes
I have never lived in an apartment that has been so nice before. The military discount definetly sealed the deal for me. Always clean, the staff is friendly and always helpful.
Thank you for the awesome review Desiree! We love having you as a valued resident at Infinity!
So far so good
|Recommended: Yes
This is my family's first time living in an apartment complex and so far, it has been really great. The building is brand new. The amenities are really great. The staffs are all very helpful. Whenever we have a visitor, they always say that it smells like a brand new car inside the building. I highly recommend the Infinity.
Thank you for the awesome review Aldrin! We will continue to provide awesome service!
Great Place to Live|Recommended: YesMy husband and I have really enjoyed living at Infinity. The apartment is modern, beautiful, and so far the best layout we've ever lived in. Management and staff are very respectful and helpful with all questions and issues. However, there is a high need for cameras in the parking lot. My husband's car and my car, in separate occasions, have both been hit over night by another automobile. This has caused damage to our car that now has to be fixed as an out-of-pocket expense. If there were cameras installed, this would not be a problem, as we would be able to find out who caused the hit and run. Infinity is a great place to live as you are close to great schools, shopping, and restaurants. Church and other main buildings are also in close proximity. Overall I would recommend this complex to other friends because of the amazing location, amenities, management and staff.
Very comfortable and affordable complex
|Recommended: Yes
Is like living in a new house.
We never get tired of getting reviews like this. Thank you for taking the time to write it. I know time is short these days and it is a known fact that people always seem to go out of their way to write a bad review and the good reviews have difficultly finding their way to the lime light. So we really appreciate when people make time to do that. It means so much. Gloria Gambini
Everything is wonderful|Recommended: YesWould recommend to anyone, love everything about it Staff is professional and friendly. Grounds are beautiful and well-kept. Neighbors are considerate. Trash service is an extra bonus, I feel so spoiled by it Love the gym, excellent quality for an apartment gym. Can't wait for it to be summer to enjoy the pool -
The Best
|Recommended: Yes
Highly recommend. The Staff is Friendly and professional. Never lived at an apartment complex where I felt at home, at other places I always felt that it was only temporary and that the staff didn't care and could replace you at any time NOT HERE please give them a chance you won't be disappointed.
Thank you for the awesome review Joseph! We really enjoy getting to know each of our residents. Providing the best service possible is the most important thing to us. We enjoy you just as much!
I love living in Infinity Apartments
|Recommended: Yes
It's a very peaceful and serine environment. Friendly staff and neighbors
Thank you for your raving review. We do our best to give 100% to everyone all of the time. We are fortunate to be managing this amazing property and will work hard to keep these 5 star reviews coming. Sincerely, Team Infinity
JUST SAYING
|Recommended: Yes
I truly enjoy the serenity, the beautifully kept grounds, and the activities here I am proud to show it all off when I have visitors The staff is amazing Infinity was the right choice for me.
Thank you Linda! We are so happy that you call Infinity at Centerville Crossing home!
Awesome apartment little noisy |Recommended: YesI love it here amazing complex friendly staff and super quick maintenance staff
The views and opinions expressed herein are solely those of the original authors and other contributors. These views do not reflect the views of Infinity at Centerville Crossing, its owners, managers, agents, employees or content providers. No representation or warranty, express or implied, is made or given by Infinity at Centerville Crossing, its owners, managers, agents, employees or content providers regarding safety, accuracy, completeness or suitability of the information or material expressed herein for any particular purpose